NOW CARRYING IRON CITY BEAN!
A delicious, dark roast coffee –
your morning brew to help you get through the day until it's time for your evening brew!
$14.99 +tax/pound
HOURS:
Sunday – 11am to 5pm
Monday – 10am to 8pm
Tuesday – 10am to 8pm
Wednesday – 10am to 8pm
Thursday 10am to 8pm
Friday – 10am to 9pm
Saturday – 10am to 9pm

Welcome to The Brew House!  We are a beer distributor conveniently located in Gibsonia, PA in North Towne Square Plaza, near the Giant Eagle.
At The Brew House you will find foreign and domestic beers, as well as select specialty and craft beers, by the case, 12 pack, 6 pack, single, or even growler – warm or cold! Looking for a specific beer? We take special orders. Sorry, no shipping or deliveries.
Also, now serving adult slushies! Flavors change regularly, so stop by to see the latest goodness in our hoppers!
We are also an official Pennsylvania lottery site, as well as PA Skills games.
Come in and see us!
Join one our exclusive Brew House Clubs!
Join our Growler Club!
For just $59.99 (+tax) for 32oz growlers and $119.99 (+tax) for 64oz growlers, you get 12 fills of any brew on tap, no matter the beer price! (Growler not included.)
Join our Slushie Club!
$40.00 (+tax) gets you 10 slushies of your choice any time you choose!
(Regular slushie price $4.99 +tax per slushie.)
New to Our Store!
We now offer PA Skill Games! These are the machines which have gone through the PA Courts and are considered legal to play.
Come in and check them out – and maybe win a few thousand dollars in the process! (We'll soon be offering snacks, too, in case you get hungry while you're playing!)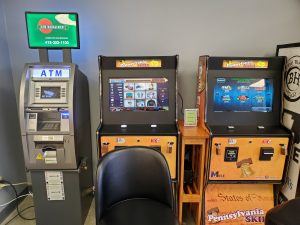 Winter is here!
While the weather is cold, we will keep Mocha Latte Slushies available!
Special Orders Are Our Specialty!
Need a particular beer?
Let us know what you need and we can have it ready for you to pick up.
#specialorderspecialists
A selection of fine cigars are always available
in our cabinet humidor!
Need a cold one?
Get singles, 6 packs, cases, and kegs from our walk-in cooler!